NYRSTAR
With over 600 workers and employees, many of whom work in a two- or three-shift system, and with various full-time and part-time work schedules, the workforce planning and payroll calculation of metal company Nyrstar is a genuine feat. Nyrstar called on Syntegro to organise this in an accurate and efficient way and ensure optimal staffing at the two Belgian plants.
In this article, Stephanie Clé, HR specialist at Nyrstar, talks about the international metal company's needs and how Syntegro's complete workforce management tool makes her work and that of her colleagues simpler and more efficient.
Nyrstar introduces flexible workforce management tool for complex processes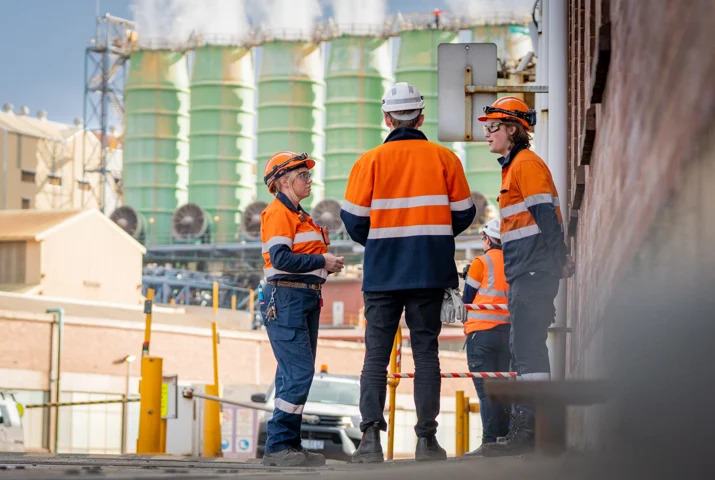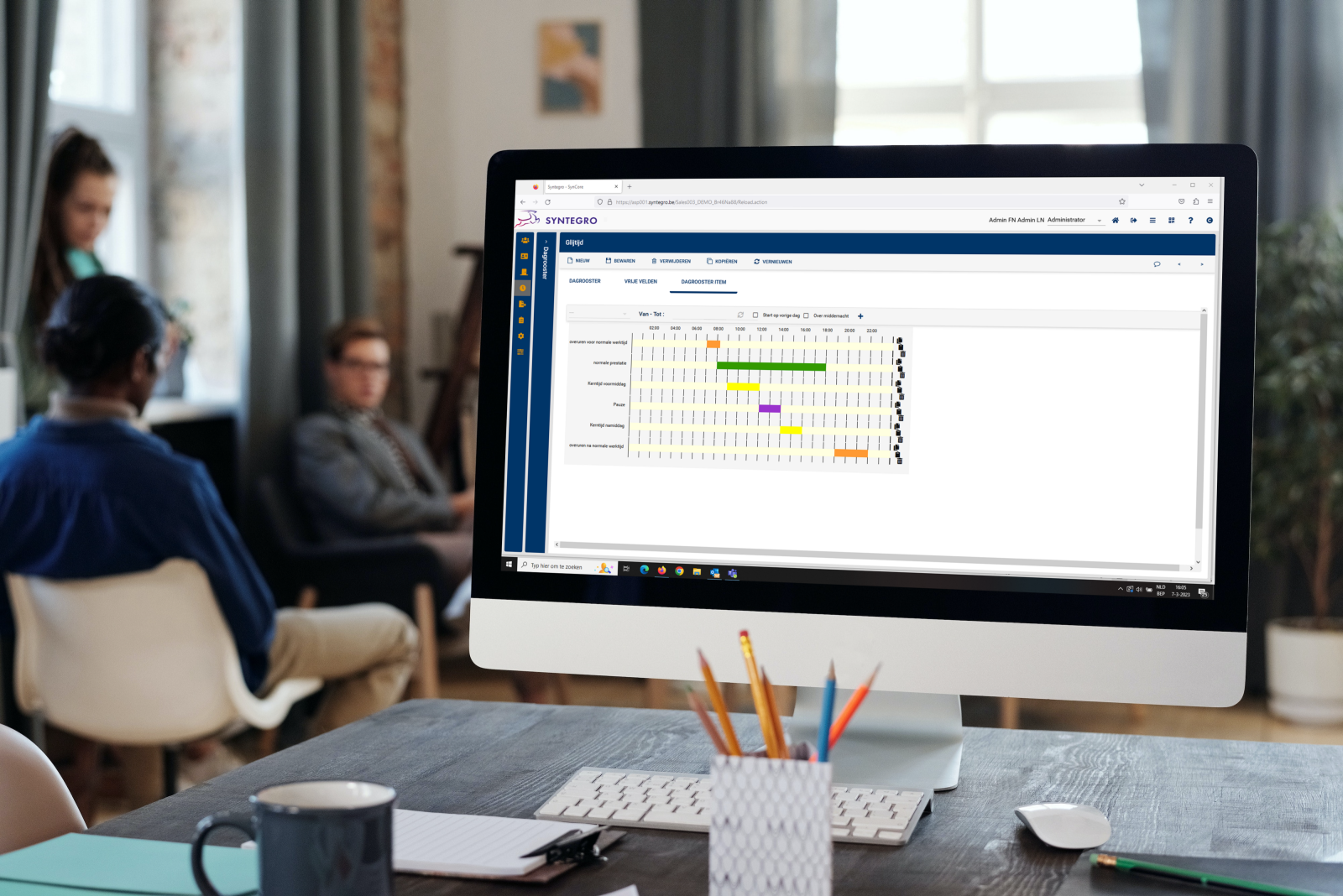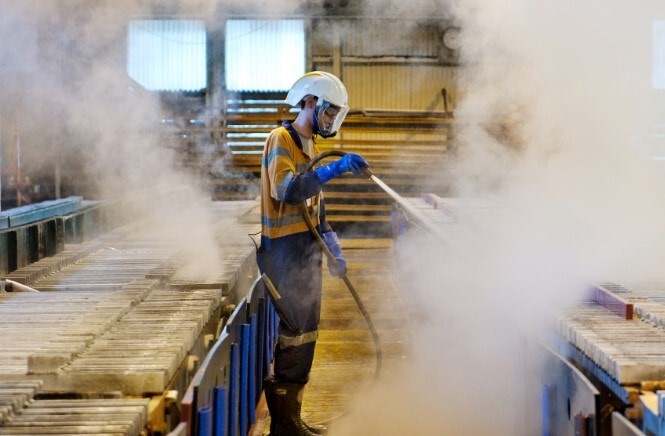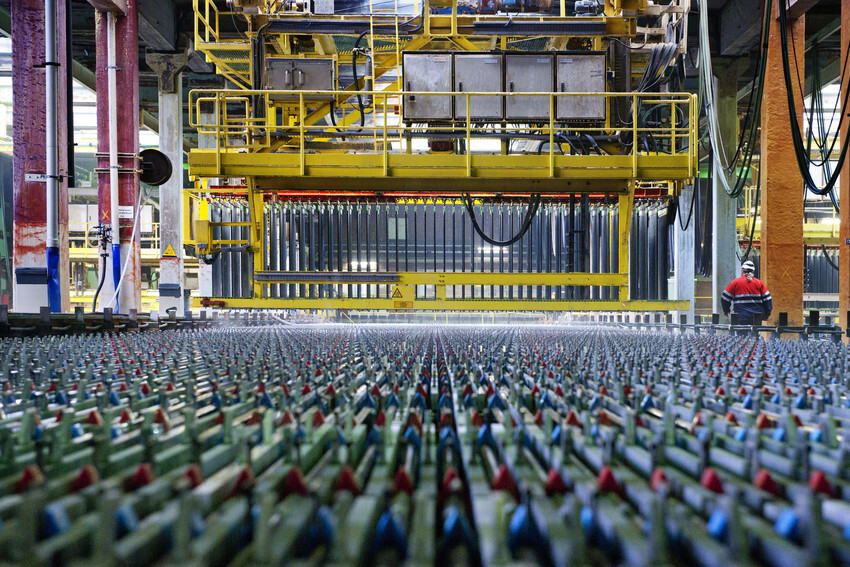 Complex environment, special requirements
Nyrstar is an international metal company with activities in Europe, North and South America and Australia. Headquartered in Budel, the Netherlands, the multinational also has two Belgian plants. The zinc smelter in Balen is one of the biggest in the world. In addition to melting and casting facilities, the Pelt site also boasts one of the largest oxide washing plants in Europe. The two locations are complementary and highly integrated. The two sites currently employ more than 600 workers and employees.
"With so many employees and different work schedules, shift systems, bonuses, allowances and so on, Nyrstar is a complex environment," HR specialist Stephanie Clé explains.
"Such an environment requires a complete and flexible workforce management solution. For us, that means not only time and attendance registration, but also leave management, shift planning, overtime monitoring, etc. Other important aspects are the maximum integration of this solution with other software and hardware and a self-service capability for our employees."
All-in-one workforce management tool
"We realise time and efficiency gains, we can save on investments and we have constant access to information to optimise our operation." - Stephanie Clé - HR specialist Nyrstar
Nyrstar found this solution at Syntegro. From time registration and certificate management to personnel planning, employee self-service, automation of bonuses and overtime and links to other software: with Syntegro's workforce management software, Nyrstar has everything at its fingertips.
"The collaboration with Syntegro makes time registration faster, easier and more accurate at both sites. No more manual checks are necessary, resulting in considerable time gains. Moreover, the time registration tool is linked with our SERIS time clocks. Thanks to this link we don't have to invest in new ones. The link with Microsoft Office and DOTS, the HR and well-being platform of payroll firm Attentia, is also seamless and that makes our work so much easier.
The same can be said of the very transparent and user-friendly workforce planning solution Syntegro devised with a configuration custom-tailored to our company.
And our colleagues are very enthusiastic about the self-service module they can consult on their smartphone or laptop with the aid of an app. It gives them access to the time registration and workforce planning and they can request leave, submit sick notes, etc. The application creates a great deal of added value for them and their superiors: more ownership and responsibilities and less laborious communication.
That is even more the case for our on-call service. Within certain limits and subject to the approval of their team leader, they can entirely determine their own work schedule.
Moreover, the automation of the allocation of bonuses and overtime based on time registration and planning has resulted in huge time and efficiency gains.
In closing, automated and comprehensive reporting ensures everyone has suitable access to up-to-date information, enabling us to continually optimise our operation."
The power of Syntegro
"Syntegro is an accessible, actively contributing partner that delivers flexible, bespoke solutions for complex work environments." - Stephanie Clé - HR specialist Nyrstar
"The benefits of Syntegro's workforce management tool are huge", Stephanie emphasises. She feels the main strength of the solution lies in the way Syntegro configures its software to suit Nyrstar's needs. This is only possible by listening attentively, thinking along and remaining committed throughout the process.
"We did have quite a few special needs and requirements. From day one, Syntegro's people made an active contribution. They listened to our problems and adopted a highly solution-oriented approach in solving them. Syntegro is an extremely committed partner that remained close on hand throughout the implementation process, which lasted over a year, and is still accessible today.
Moreover, as Syntegro does not develop tailor-made software but configures flexible standard solutions into a custom solution, the company can respond quickly and adapt solutions to the changing needs of a complex work environment like ours."
CHALLENGES
Simultaneous replacement of a time registration system and planning tools
Optimal staffing that also takes account of the wishes of the workforce
Integration of leave administration, time registration and planning
Link with existing time clocks and other software packages
SOLUTION
User-friendly and easy-to-manage time registration
Workforce planning with self-scheduling capability
Self-service via PC and smartphone for staff and management
Automation of certificate management, allocation of bonuses, overtime, etc.
Comprehensive reporting
BENEFITS
A single, fully integrated workforce management solution
Time gains thanks to full automation and more efficient workflows
Happy staff thanks to digital self-service options
Standard software with bespoke configuration generates fast ROI
Actively contributing and accessible partner